Daisy Morales Named FNN News 2022 State Legislator of the Year
ORLANDO, Fla. (FNN) – Florida National News (FNN) has named State Representative Daisy Morales (D-Orlando) Florida National News State Legislator of the Year for her unwavering commitment to the disability community in Florida and nationwide.
There are 120 members of the Florida House of Representatives, and 40 members of the Florida Senate which make up the Florida State Legislature. In November 2022, Republicans increased majority from 78-42 to 85-35 with control over the Florida House. As the minority party, Democratic legislators have an uphill battle in getting legislation passed through committees, on the House floor and signed into law by a Republican governor.
This year, the Florida National News highlights a House Democratic freshman state legislator with a proven track record of getting sponsored legislation passed and signed into law who has advanced the rights, dignity, equal opportunities, and choices for Floridians with intellectual and developmental disabilities during the 2022 Legislative Session.
2022 State Legislator of the Year
There are many ways to measure a lawmaker's success. FNN News kept it simple: the Legislator of the Year is one who accomplishes both parts of their job: pass laws (in other words, draft bills that pass both Chambers of the Legislature and get signed into law by the governor) and balance the state budget. Given how difficult it is for a Democrat lawmaker to get bills passed and signed into law, the more sponsored bill signed into law that are under their belt, the better.
During the 2022 Legislative Session, Representative Morales sponsored bipartisan legislation that was signed into law by Governor Ron DeSantis that had significant impact for disabled homeowners (HB 13), disabled veterans (HB 45), and the Down Syndrome community (HB 213).
In 2020, Representative Morales was elected to the Florida House of Representatives and served on the Education & Employment Committee, Post-Secondary Education & Lifelong Learning Subcommittee, Agriculture & Natural Resources Appropriations Subcommittee, Congressional Redistricting Subcommittee, and the Finance & Facilities Subcommittee. She also served on the Select Subcommittee for the Seminole Gaming Compact during her two-year term. During that time, the freshman state lawmaker made history in the Florida House by sponsoring and co-sponsoring over 100 bipartisan bills that were signed into law–more than any other freshman state representative during the 2020-2022 term.
Here's a breakdown of Morales' three sponsored bills in detail and the bills' beneficiaries.
1. Disabled Veterans
Educational Opportunities for Disabled Veterans (HB 45)
Representative Morales sponsored House Bill 45, Educational Opportunities for Disabled Veterans, legislation which provides disabled veterans receiving certain federal educational assistance more benefits. They are eligible to receive a waiver for tuition and fees at certain institutions; the legislation provides calculation for the waiver amount; requires the amount awarded by the state to be contingent on application of specified federal benefits; requires institutions to submit an annual report to the Board of Governors and State Board of Education; and requires boards to adopt regulations and rules.
Florida lawmakers passed HB 45 earlier this year. The law provides an educational benefit to disabled veterans, allowing those who qualify as residents to attend state universities or career centers, and if they're not qualified for the 100% eligibility tier federally, remaining tuition fees can be waived.
This law was so pivotal, it's on a path to becoming a national model.
Democratic State Rep. Daisy Morales met virtually with Louisiana Republican State Rep. Beau Beaullieu (above right) about introducing legislation on educational opportunities for disabled veterans in the Pelican State.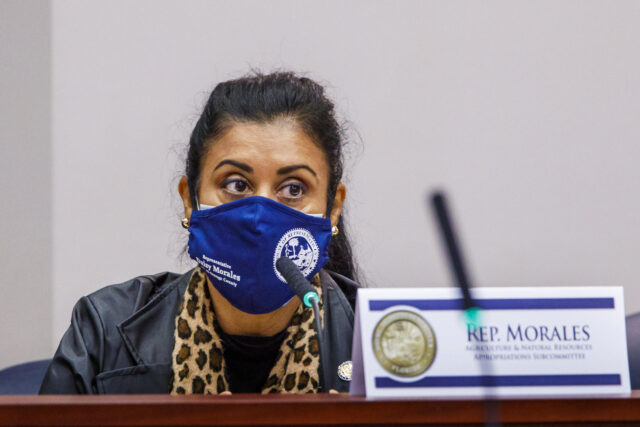 Morales hopes Florida could become a national model on veteran education.
"It's great to work as partners to help disabled veterans who have sacrificed so much for our country with educational opportunities to eliminate challenges they face when they have given so much for our country and allow them to support their families," Morales said when the bill was signed into law. "My office will work closely with other State Legislators looking to pass legislation for educational tuition assistance."
2. Disabled Homeowners
In July of 2021, Rep. Morales and State Representative Michael Gottlieb (D-Broward) filed HB 13 – Property Tax Exemptions For Widows, Widowers, Blind Persons, or Persons Totally and Permanently Disabled, a 2022 bill increasing the homestead exemption for the widowed and disabled.
HB 13 proposes a 10x property tax exemption increase for residents who are widows, widowers, blind persons, or persons totally and permanently disabled from $500 to $5,000. The exemption would apply to tax years beginning on or after January 2023.
HB 13 was eventually amended into HB 7071, the largest tax relief bill in Florida's history, offering $1.2 billion in tax relief to Floridians in the form of several tax holidays in addition to the 10x tax exemption increase for disabled homeowners.
3. Down Syndrome Community
In December of 2021, Rep. Morales drafted HB 213 – Specialty License Plates, proposing the sale of Down Syndrome specialty license plates, and breaking down where the proceeds would go:
Fifty percent would be used to build and maintain HOLLAND, an affordable housing project for independent living for persons with Down Syndrome and other intellectual disabilities.
Fifteen percent would be dedicated to World Changer scholarships provided by Our City Beautiful, a non-profit organization, for Florida residents 18 years of age or older with Down Syndrome who wish to further their education at Florida postsecondary educational institutions.
Thirty-five percent would be used for grants to other nonprofit organizations within this state to support housing, educational scholarships, and employment assistance programs for persons with Down Syndrome and other intellectual disabilities.
The Senate companion bill, CS/CS/SB 364, which included Rep. Morales' bill as well as bills for several other specialty license plates, was signed into law.
Leadership and Commitment to Advocacy
As a former vice chair of the Orange County Disability Advisory Board and longtime caretaker for her adult sister with Down Syndrome, Rep. Morales used her real life experiences to author and support legislation benefitting Floridians with disabilities once she got to Tallahassee. In addition to the three key disability-related bills she sponsored, she also co-sponsored HB 15 – Children with Developmental Delays, HB 173 – Care of Student with Epilepsy or Seizure Disorders, HB 235 – Restraint of Students with Disabilities in Public Schools, and HB 475 – Alzheimer's Disease and Related Forms of Dementia Education and Public Awareness.
Morales also brought that commitment to District 48.
With April being Autism Awareness Month, Morales teamed up with District 2 Orlando City Commissioner Tony Ortiz to host an Autism Awareness Day event at the Engelwood Neighborhood Center, located on South Semoran Blvd. The event featured vendors who serve the Autism community: attorneys, health care companies, small business owners, and even the arts community, all coming together to raise awareness of the services available in Central Florida for residents with autistic family members.
Rep. Morales proved herself a common sense champion over the past two years with a passion for helping one of Florida's most vulnerable communities. The disabled community is the biggest winner of Rep. Morales' legislative agenda during her time in the Florida House of Representatives.
That's why Florida National News is proud to name Daisy Morales State Legislator of the Year for 2022.
"I'm honored to be recognized by Florida National News for this," Morales said. "I also appreciate this media outlet for consistently reporting on the work my office was doing throughout my term. I fight to ensure the disability community is heard, because they need a voice in Tallahassee. As the sibling and caretaker of someone with Down Syndrome, I understand what the disability community needs and wanted to use the authority entrusted to me by the voters to give them what they need."
Florida Dems: DeSantis Calls for Open-Carry Special Session
As Florida Republicans sent a permitless carry bill to his desk at his urging yesterday, Ron DeSantis used his campaign stop at a gun store in Georgia to indicate to supporters that he could call a special session to pass further anti-gun safety legislation if he could secure the votes. DeSantis' call for an open-carry special session comes after he expressed his support for going
further
than permitless carry earlier this year in a clear effort to boost his national profile and win over the MAGA base ahead of a potential presidential run.
Key points:
Gov. Ron DeSantis is pushing for a Special Session to further expand gun rights. During a campaign event in Georgia, an activist asked DeSantis, "will you call a Special Session for open carry?" DeSantis' response was clear. "If I can get the votes."
Video of the comment was quickly shared by gun activist Matt Collins. The remarks came the same day the Legislature passed a permitless carry bill DeSantis has said he will sign. That bill (HB 543) will eliminate any requirement for concealed carry licenses to bring a firearm to public settings, but would still require guns to be concealed.
But hard-line Second Amendment activists have said the legislation doesn't go far enough. Some groups have suggested allowing the Legislature to stop with permitless carry will be a political liability as DeSantis considers a run for President.
"By signing a bill that keeps open carry illegal, DeSantis is putting political expediency ahead of the full Second Amendment rights of Floridians," said Sean Themea, Chief of Staff at Young Americans for Liberty. "This was a chance for him to stand up to the RINOs in his own Legislature and demand a clean bill. If he can't do that in his own state, how can gun owners trust him to do that at the national level?"
DeSantis has long signaled he would sign open carry, but also said this week he won't reject permitless carry.
"In terms of the constitutional carry, I'm for everything," DeSantis said. "But if they (the Legislature) send me something that is 90% or 80%, I mean, I'm going to take that win and we can come back for more at some time in the future."
Japan's PM offers Ukraine support as China's Xi backs Russia
KYIV, Ukraine (AP) — Prime Minister Fumio Kishida made a surprise visit Tuesday to Kyiv, stealing some of the attention from Asian rival President Xi Jinping of China, who met in Moscow with Russian President Vladimir Putin to promote Beijing's peace proposal for Ukraine that Western nations have already criticized.
The two visits, about 800 kilometers (500 miles) apart, highlighted the nearly 13-month-old war's repercussions for international diplomacy as countries line up behind Moscow or Kyiv. Kishida, who will chair the Group of Seven summit in May, met President Volodymyr Zelenskyy and paid tribute to those killed in Bucha, a town outside Kyiv that became a symbol of Russian atrocities against civilians.
After talks with Xi, Putin said a Chinese peace plan could provide a basis for a settlement of the fighting in Ukraine when the West is ready for it, but he added that Kyiv's Western allies have shown no interest in that.
U.S. officials have said any peace plan coming from the Putin-Xi meeting would be unacceptable because a cease-fire would only ratify Moscow's territorial conquests and give Russia time to plan for a renewed offensive.
"It looks like the West indeed intends to fight Russia until the last Ukrainian," Putin said after his talks with Xi. He said the latest threat is a British plan to provide Ukraine with tank rounds containing depleted uranium. "If that happens, Russia will respond accordingly, given that the collective West is starting to use weapons with a nuclear component."
He did not elaborate. Putin has occasionally warned that Russia would use all available means, including possibly nuclear weapons, to defend itself, but also has sometimes backed off such threats.
Putin's comment referred to remarks Monday by U.K junior Defense Minister Annabel Goldie, who wrote: "Alongside our granting of a squadron of Challenger 2 main battle tanks to Ukraine, we will be providing ammunition, including armor-piercing rounds which contain depleted uranium. Such rounds are highly effective in defeating modern tanks and armored vehicles."
Russian Foreign Minister Sergey Lavrov said the U.K. plan shows that the British "have lost the bearings," and Defense Minister Sergei Shoigu said "it marked another step, and there aren't so many of them left."
But weapons expert Hamish de Bretton-Gordon, former commander of Britain's Royal Tank Regiment, said it was "reckless" of Putin "to try and suggest Britain is sending nuclear material" to Ukraine. He said depleted uranium is a common component of tank rounds, possibly even used by Russia.
"Putin insinuating that they are some sort of nuclear weapon is bonkers," de Bretton-Gordon told The Associated Press. "Depleted uranium is completely inert. There is no way that you could create a nuclear reaction or a nuclear explosion with depleted uranium."
Beijing insists it is a neutral broker in Ukraine, and Xi said Tuesday after his talks with Putin: "We adhere to a principled and objective position on the Ukrainian crisis based on the goals and principles of the U.N. Charter." He added that the Chinese plan seeks to "actively encourage peace and the resumption of talks."
In a joint statement, Russia and China emphasized the need to "respect legitimate security concerns of all countries" to settle the conflict, echoing Moscow's argument that it sent troops into its neighbor to prevent the U.S. and its NATO allies from turning the country into an anti-Russian bulwark.
"Russia welcomes China's readiness to play a positive role in the political and diplomatic settlement of the Ukrainian crisis" and the "constructive ideas" contained in Beijing's peace plan, the statement said. It added: "The parties underline that a responsible dialogue offers the best path for a lasting settlement … and the international community should support constructive efforts in this regard."
Kishida laid flowers at a church in Bucha for the town's victims.
"Upon this visit to Bucha, I feel a strong resentment against cruelty," he said. "I would like to represent the people in Japan, and express my deepest condolences to those who lost their loved ones, were injured as a result of this cruel act."
U.S. Ambassador to Japan Rahm Emanuel noted the "two very different European-Pacific partnerships" that unfolded Tuesday.
"Kishida stands with freedom, and Xi stands with a war criminal," Emanuel tweeted, referring to Friday's decision by the International Criminal Court to issue an arrest warrant for Putin, saying it wanted to put him on trial for the abductions of thousands of children from Ukraine.
Kyiv's allies pledged more support. Washington is accelerating its delivery of Abrams tanks to Ukraine, sending a refurbished older version that can be ready faster, U.S. officials told The Associated Press on Tuesday. The aim is to get the 70-ton behemoths to the war zone in eight-to-10 months, the officials said on the condition of anonymity because the plan has not yet been announced.
Putin is keen to show he has a heavyweight ally and market for Russian energy products under Western sanctions. He said he wants to expand bilateral economic ties, noting Russian-Chinese trade rose by 30% last year to $185 billion and is expected to top $200 billion this year.
Russia stands "ready to meet the Chinese economy's growing demand for energy resources" by boosting deliveries of oil and gas, he said, while listing other areas of economic and cultural cooperation, including aircraft and shipbuilding industries and other high-tech sectors.
The Russia-China front against the West was a prominent theme of Xi's visit. Russia's Deputy Foreign Minister Sergei Ryabkov accused NATO of seeking to become the world's dominant military force. "That is why we are expanding our cooperation with China, including in the security sphere," he said.
Whether China's support of Russia will extend to military support is a key question. Western officials "have seen some signs" that Putin also wants lethal weapons from China, though there is no evidence Beijing has granted his request, NATO Secretary-General Jens Stoltenberg said in Brussels.
"China should not provide lethal aid to Russia," Stoltenberg said. "That would be to support an illegal war and only prolong the war."
Meeting Tuesday with Russian Prime Minister Mikhail Mishustin, Xi said he invited Putin to visit China this year to discuss a regional initiative that seeks to extend Beijing's influence through economic cooperation.
Moscow and Beijing have both weathered international condemnation of their human rights records. The Chinese government has been widely condemned for alleged atrocities against Uighur Muslims in its far western Xinjiang region. The allegations include genocide, forced sterilization and the mass detention of nearly 1 million Uighurs. Beijing has denied the allegations.
Kishida rode a train from Poland to Kyiv just hours after he met with Indian Prime Minister Narendra Modi in New Delhi and a week after a breakthrough summit with South Korean President Yoon Suk Yoel.
Both China and Japan have enjoyed recent diplomatic successes that emboldened their foreign policy.
Japan, which has territorial disputes over islands with both China and Russia, is particularly concerned about the close relationship between Beijing and Moscow, which have conducted joint military exercises near Japan's coasts.
Beijing's diplomatic foray follows its recent success in brokering a deal between Iran and its chief Middle Eastern rival, Saudi Arabia, to restore relations after years of tensions. The move displayed China's influence in a region where Washington has long been the major foreign player.
Kishida, the only G-7 leader who hadn't visited Ukraine, and was under domestic pressure to do so. He became Japan's first postwar leader to enter a war zone.
Due to its pacifist principles, Japan's support for Ukraine has been limited to equipment and humanitarian supplies.
Japan has contributed more than $7 billion to Ukraine and accepted more than 2,000 displaced Ukrainians, a rare move in a country with a strict immigration policy.
Tokyo joined the U.S. and European nations in sanctioning Russia over the invasion. By contrast, China has refused to condemn Moscow's aggression and criticized Western sanctions against Moscow, while accusing NATO and Washington of provoking Putin's military action.
Japan was quick to react because it fears the possible impact of a war in East Asia, where China's military has grown increasingly assertive and has escalated tensions around self-ruled Taiwan, which Beijing claims as its territory.
In Beijing, Foreign Ministry spokesperson Wang Wenbin said of Kishida's trip: "We hope Japan could do more things to deescalate the situation instead of the opposite."
State Sen. Geraldine Thompson Presents Tyre Sampson Amusement Park Bill Monday
ORLANDO, Fla. (FNN) – State Senator Geraldine Thompson is scheduled to speak on her Tyre Sampson Act bill (SB 902) and Public Records/Active Amusement Ride Investigation bill (SB 904) in the State Senate Agriculture Committee at 3:30pm ET today.
Shortly before the hearing, Sen. Thompson spoke with the press to clarify what the SB 902 bill proposes for amusement parks.
Here are some of the requirements:
– signage for height and weight requirements
– an annual affidavit and a third party to inspect rides and commission approving the ride
– a duty to report to Florida Department of Agriculture and Consumer Services (FDACS) after permit to operate
– training (beyond having 18-year-olds with limited training operating the ride)
– perform maintenance and changes (due to metal fatigue, etc.); there will be unannounced and more frequent inspections
– require seatbelts on any ride that goes above 100 feet (Freefall ride didn't require seatbelts with the other restraint)
– accident reporting (for any emergency care, including Urgent Care centers, not just hospitals)
When Florida National News asked what her initial reaction was when she learned during the investigation that the Freefall ride had no safety belts, she replied, "I'm surprised…I don't think you should put profits over people. For an additional $20-50 dollars, you could've secured the safety of Tyre Sampson [with a safety belt]. Therefore, I decided to amend the bill to require a seatbelt as a redundancy, and not just have it as an option."
FNN News also asked who would be responsible for choosing the third party inspector for the rides. Sen. Thompson explained that the company can choose and would be responsible for paying for 3rd party based on the criteria for third party inspectors in the legislation. We followed up asking what would happen if companies push back on having to not only allow for more and unannounced inspections and then also be responsible for paying for them. She replied that companies will have to include these inspection costs in their budgets. "How do you put a price on the life of an individual?" she asked.
Sen. Thompson was asked about her public records exemption request for the investigation of the Free Fall Ride on International Drive in the death of 14-year-old Tyre Sampson almost a year ago. She explained that she requested the exemption because the investigation wasn't completed. Once it was, the records were made available, and she added that the fines charged could only be made available at the end of the investigation.
So how would this legislation affect older rides and new rides if it becomes law? Sen. Thompson explained that, if it becomes law, it would apply to any ride launched after July 1, 2023. In fact, it would also affect carnival rides. "Every time you move a temp ride, an inspection would be required–at fairs and carnivals; also go-carts, and bungee jumping rides."
When asked about her thoughts on the ride being taken down near the anniversary of Tyre Sampson's death, she replied, "This says that it's not business as usual. The State of Florida is taking this very seriously. We're communicating very clearly that this is not business as usual and honoring this young man's life by calling it the Tyre Sampson Act."
Sen. Thompson says this bill is expected to have bipartisan support. She mentioned that she has spoken to the Chairman of the Senate Agriculture Committee, and noted that this is not a partisan issue, but a public safety issue.
_________________________________________________
Mellissa Thomas is the Editor of Florida National News. | mellissa.thomas@floridanationalnews.com