Halloween in Orlando Starts in September
ORLANDO, Fla. (FNN NEWS) – It may only be September, but Halloween is already in full swing at many of Orlando's top attractions.
Walt Disney World celebrated the Halloween season first with Mickey's Not-So-Scary Halloween Party taking place August 16th. Disney continues to celebrate Halloween for the next two and a half months with the final Mickey's Not-So-Scary Halloween Party taking place on November 1st.
Universal Orlando Resort followed with Halloween Horror Nights with the first Halloween Horror Night taking place on September 6th. Since it started later, Universal will continue Halloween Horror Nights longer than Disney's Mickey's Not-So-Scary Halloween Party with the final Horror Nights happening on November 2nd.
Other attractions starting their Halloween in September include SeaWorld and the Crayola Experience. SeaWorld's Halloween Spooktacular the Crayola Experience's Screamin' Green Hauntoween begin on September 21st.
In Orlando Halloween truly begins in September with all of the most famous attractions starting their celebrations before fall even begins.
_______________________________________________________
Leyton Blackwell is a Florida National News contributor. | info@floridanationalnews.com
Review: In 'Wakanda Forever,' an empire mourns and rebuilds
Made in the wake of tragedy, "Black Panther: Wakanda Forever" reverberates with the agony of loss, piercing the usually less consequential superhero realm. Like someone going through the stages of grief, Ryan Coogler's movie is at turns mournful and rootless, full of rage and blessed with clarity. In the fantastical Marvel Cinematic Universe where mortality is almost always a plaything, wrestling with the genuine article, in the death of T'Challa star Chadwick Boseman, makes for an unusually uncertain, soul-searching kind of blockbuster-scale entertainment.
It's a fine line, of course, between paying tribute and trading on it. I did cringe a little when the Marvel logo unspooled with images of Boseman within the letters: Eulogy as branding. That "Black Panther," a cultural phenomenon and a box-office smash, would get a sequel, at all, was momentarily in doubt after Boseman's unexpected death from colon cancer in 2020. Radically reworked by Coogler and co-writer Joe Robert Cole, "Wakanda Forever" pushed ahead in hopes of honoring both Boseman and the rich Afrocentric world of the landmark original. In its admirably muddled way, it succeeds in both.
Part of the profound appeal of Coogler's first "Black Panther" resided in its deft channeling of the real world into mythology. It fed centuries of colonialism and exploitation into a big-screen spectacle of identity and resistance. In an invented African nation, Coogler conjured both a fanciful could-have-been history and emotional right-now reality.
"Wakanda Forever," which opens in theaters Thursday, expands on that, weaving in a Latin American perspective with a similar degree of cultural specificity in the introduction of the Aztec-inspired antagonist Namor (Tenoch Huerta), king of the ancient underwater world of Talokan. At the same time, Boseman's death is poignantly filtered into the story from the start, beginning with off-screen death throes.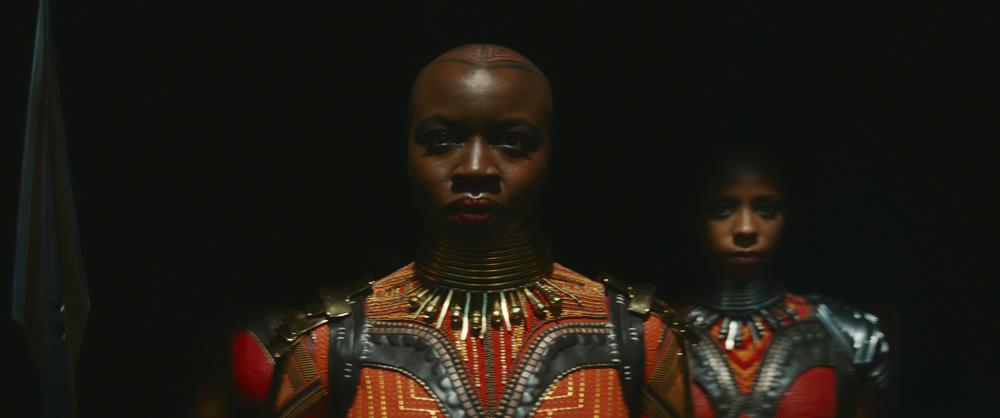 "Time is running out," we hear whispered while the screen is still black. Shuri (Letitia Wright), T'Challa's tech-wiz sister, is frantically trying to craft something in her AI lab to save her brother. But in a moment, their mother, Queen Ramonda (Angela Bassett), informs her: "Your brother is with the ancestors." He's laid to rest in a glorious, celebratory procession, carried through a multi-tiered channel of white-clad, singing-and-dancing Wakandans. It's as stunning as anything Coogler has shot.
After this prologue, "Wakanda Forever" shifts to a year later. "Black Panther" took some of the spy-thriller shape of a Bond movie, and the sequel carries that on in a new geopolitical context. At the United Nations, the United States and France are pressuring for access to vibranium, the rare metal that Wakanda has built its empire on. Soon after, a U.S. military expedition discovers vibranium at the bottom of the ocean. But just as they're celebrating, a mysterious tribe of blue underwater people, led by Namor, a pointy-eared monarch in green short-shorts with wings on his ankles, ruthlessly wipe out the entire expedition.
You can feel "Wakanda Forever" searching for a way forward in these early scenes. After such an anguished beginning, how much care can we summon for the whereabouts of magical ores? And more blue people? "Avatar," you might think, has already laid claim to them. What steadies the film is Bassett. Her awesome presence leads "Wakanda Forever" through grief with a staunch defense of Wakanda that rebalances the newly king-less kingdom. She carries on.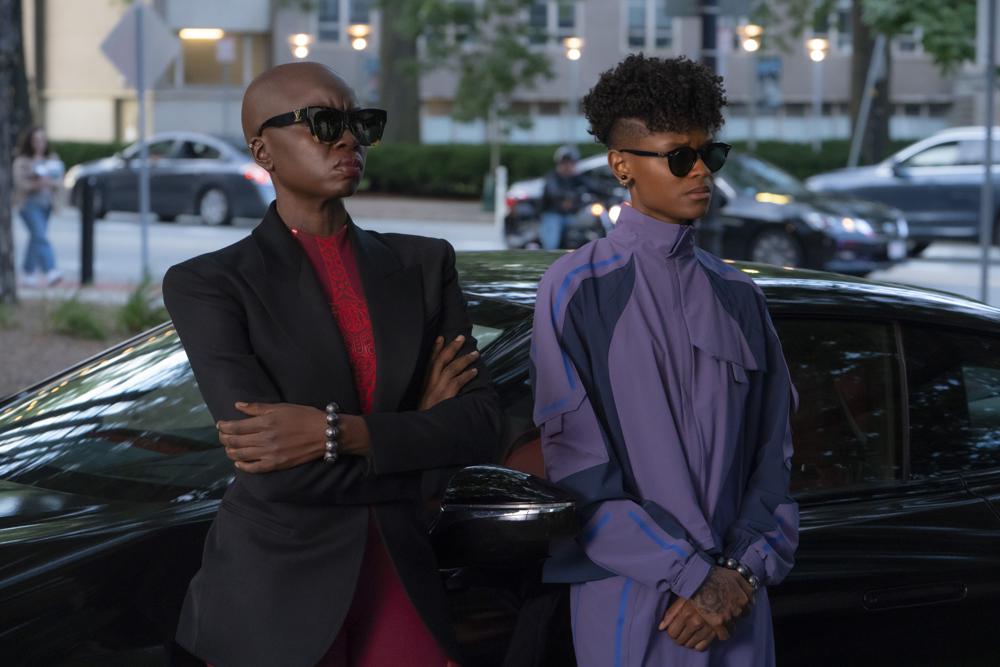 What follows is a globe-trotting plot that draws the film away from perhaps its greatest asset in Wakanda but uncovers new places of latent power among historically exploited people. Shuri and Okoye (Danai Gurira), the Dora Milaje general, travel to Cambridge, Massachusetts, to seek the student (Dominique Thorne) who created a vibranium detector. In the Washington D.C. area, Wakanda's friendly CIA officer (Martin Freeman) experiences new scrutiny from his boss, played by an unannounced comic actress familiar to Beltway politics.
But, mostly, a series of exchanges draw Wakanda and Talokan closer. Are they friends and foes? They are, at least, a captivating tweak to the mythology of Atlantis. Talokan, dark and watery, is no Wakanda, though, and there's less hint this time of a larger society. Still, Huerta brings a magnetism to Namor. In many ways, he's a corollary to Michael B. Jordan's Killmonger, a non-villain whose fury is in many ways justified. His anger appeals to the still-grieving Shuri who finds herself ready, after T'Challa's death, to "burn the world."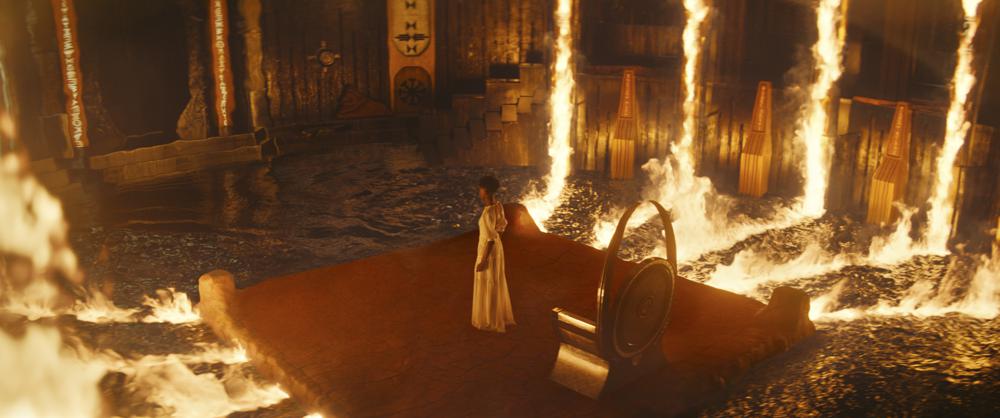 As in the first "Black Panther," the question again hangs in the balance of whether, in a pain-ridden and prejudiced world, rage is the answer. This time, it applies to another powerful civilization, too. "Wakanda Forever," where the role of Black Panther is passed down, is in more ways than one about the transfer of power.
Wakanda and Talokan are brought together a little haphazardly in conflict, as Namor pressures the African nation to join his brewing surface war. "Wakanda Forever" proceeds as a murky, middle-act film that may ultimately serve as a bridge to future "Black Panther" chapters. But along the way, there are countless marvels that Coogler conjures with returning magic-workers like production designer Hannah Beachler and costume designer Ruth E. Carter. How the Talokan are flung into the air by whales. The fierce friendliness of Gurira's performance. Lupita Nyong'o is unfortunately less central here, but every time her Nakia (who has been laying low in Haiti) is present, she graces the film.
"Wakanda Forever" is overlong, a little unwieldy and somewhat mystifyingly steers toward a climax on a barge in the middle of the Atlantic. But Coogler's fluid command of mixing intimacy with spectacle remains gripping. He extends the rich detail and non-binary complexity that distinguished "Black Panther" in sometimes awkward but often thrilling ways. "Wakanda Forever," grappling in the aftermath of loss, ultimately seeks something rare in the battle-ready superhero landscape: Peace.
"Black Panther: Wakanda Forever," a Walt Disney Co. release, is rated PG-13 by the Motion Picture Association of America for sequences of strong violence, action and some language. Running time: 161 minutes. Three stars out of four.
Emmett Till movie shown in Black town pivotal to the story
MOUND BAYOU, Miss. (AP) — The tiny, all-Black town of Mound Bayou became a safe haven for Emmett Till's mother as she traveled to Mississippi to testify in the murder trial of two white men who lynched her son in 1955.
Hundreds of people — a good portion of Mound Bayou's 1,500 residents — turned out Thursday evening to watch the movie "Till." The feature film is going into wide release across the U.S. this weekend after being in limited release since Oct. 14.
"This place, this city, is very sacred to the story of Emmett Till," one of the filmmakers, Keith Beauchamp, told the mostly Black audience in the gymnasium/auditorium of Mound Bayou's John F. Kennedy High School.
The screening happened days after a bronze statue of Till was unveiled about 50 miles (80.5 kilometers) away in Greenwood, Mississippi.
Beauchamp is one of the producers and writers of "Till," which largely focuses on Mamie Till-Mobley's reaction to the loss of her only child and her evolution into a civil rights leader. Her 14-year-old son had traveled from Chicago to Mississippi to visit relatives in August 1955, and white men kidnapped, tortured and killed him after accusations that he flirted with Carolyn Bryant, a white woman working in a country store.
Till-Mobley, who was named Mamie Bradley at the time of her son's death, insisted on an open-casket funeral in Chicago so the world could see her son's brutalized body. Jet magazine published photos.
An all-white, all-male jury in Tallahatchie County acquitted the shopkeeper's husband, Roy Bryant, and his half brother J.W. Milam just weeks after Till's body was pulled from a river. The two men later confessed in an interview with "Look" magazine.
Mound Bayou was founded by formerly enslaved people in the cotton-growing Mississippi Delta in 1887 as a freestanding community where Black people could thrive amid the hostility of the Jim Crow era.
NAACP leaders, including Mississippi's Medgar Evers, coordinated with Dr. T.R.M. Howard, a physician and entrepreneur in Mound Bayou, to provide safety and security for Till's mother in the town. Mound Bayou also provided shelter for Black journalists who covering the trial 35 miles (56.3 kilometers) away in Sumner.
The lynching of Till galvanized the civil rights movement, and it has reverberated for generations with Black parents who tell their children to be careful in a country that has not shaken racism.
One of the Till relatives who attended the screening Thursday was 65-year-old Joe Stidhum, born two years after Till was killed. He said his grandfather and Till's mother were brother and sister.
Stidhum said his mother was always strict on him as his 10 siblings as they were growing up in Mound Bayou, but "she didn't tell us her side of it until we got older." He said he was about 12 or 13 before he learned about Till's violent death.
"Once we got up into teens, that's when my mom kind of explained to us why she was so protective of us," Stidhum said after the movie.
The closest cinema to Mound Bayou is more than 30 miles (48.3 kilometers) to the south, in Greenville, Mississippi.
Nobody has ever been convicted in Till's lynching. The U.S. Justice Department has opened multiple investigations starting in 2004 after receiving inquiries about whether charges could be brought against anyone still living.
The Justice Department reopened an investigation in 2018 after a 2017 book quoted Carolyn Bryant — now remarried and named Carolyn Bryant Donham — saying she lied when she claimed Till grabbed her, whistled and made sexual advances. Relatives have publicly denied Donham, who is in her 80s, recanted her allegations. The department closed that investigation in late 2021 without bringing charges.
Deborah Watts, another cousin of Till and co-founder of the Emmett Till Legacy Foundation, was among the people who found an unserved 1955 arrest warrant for "Mrs. Roy Bryant" earlier this year in a courthouse basement. In August, a Mississippi grand jury found insufficient evidence to indict Donham. Watts said Thursday that she still wants officials to serve the arrest warrant on Donham.
"Justice delayed since 1955 is justice denied," Watts told The Associated Press. "Without any hate, malice or violence, we want the same thing any victim's family would want, and that is that those that were responsible be held accountable. No one should be above the law."
In March, President Joe Biden signed the Emmett Till Anti-Lynching Act. After the movie screening, Beauchamp told the audience that he is all for honoring Till's memory, but he wants more.
"If we're looking for racial reconciliation in this country, it's not going to happen with a statue or a law," Beauchamp said. "We have to have truth and justice."
Some in the crowd, sitting on blue plastic chairs and bleachers, nodded and said: "Alright. Alright."
Can the Rock steady the DC universe with 'Black Adam'?
NEW YORK (AP) — In Hollywood's superhero era thus far, there has been one particularly conspicuous absence: While a parade of big-name actors have taken their turns donning various spandex suits, Dwayne Johnson — arguably the biggest movie star in the world — has, until now, sat out the trend.
The Rock didn't really need a cape to prove his powers. The 6-foot-5 260-pound actor was, in many respects, already a superhero in his own right: a skyscraper-climbing hulk, a shape-shifting demi-god, even a bulked-up tooth fairy.
Are you a mosquito magnet? It could be your smell
"I was always ready and open to playing a superhero," Johnson said in a recent interview. "But it had to be right and it had to feel right. I had been approached before in the past about playing a few superheroes that, ultimately, I ended up passing on. They ended up going to the right actors to play them. I just waited."
The fates have finally aligned in "Black Adam," a debut so seamless that it could be called redundant. When Johnson was first trying on Black Adam's suit, he had the muscle padding removed.
Johnson's entry to the superhero business comes at a crucial juncture for the DC Extended Universe, which has been plagued of late by scandal and misfires. Ezra Miller, star of the upcoming "The Flash," has been arrested twice this year amid reports of troubling behavior (in August, Miller sought treatment for what he described as mental health issues ). "Batgirl," a $90 million movie completed for HBO Max, was summarily axed, prompting an outcry over its atypical cancellation.
Warner Bros. Discovery CEO David Zaslav has promised a "reset" to the studio's DC operations in an overhaul to implement a more Marvel-like 10-year structure and improve quality. At the fulcrum of these two eras sits "Black Adam," which opens in theaters Thursday.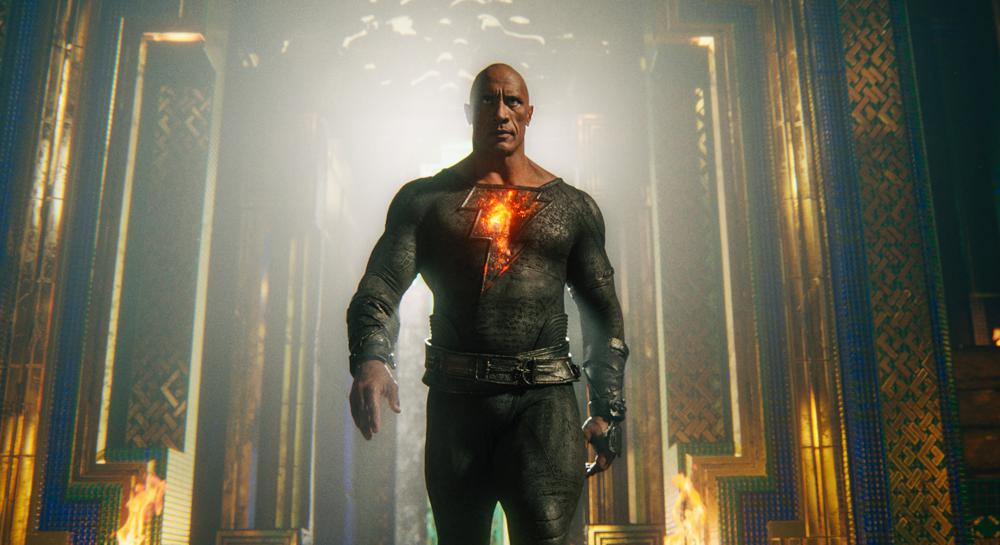 Amid such turmoil, it certainly doesn't hurt to be welcoming in a movie star as popular as Johnson, who has 341 million followers on Instagram and is often forced to deflect questions about a possible presidential run. But just how much stability can The Rock bring to DC?
"I think the timing is actually perfect. What an opportunity we have," Johnson said. "I have been saying for almost years now that the hierarchy of power in the DC universe is about to change."
Before Johnson, not many saw Black Adam as such an axis-tilting force. The character, an ancient Egyptian created by Otto Binder and C.C. Beck, first appeared in a 1945 issue of Fawcett Comics' "In DC Comics" and has generally been portrayed as a supervillain and foe to Captain Marvel (not the Brie Larson one).
More recent treatments have pushed Black Adam more toward antihero status, something the film, directed by Jaume Collet-Serra ("Jungle Cruise"), extends. Black Adam, summoned to modern day, is depicted as a reluctant hero who fears his own powers.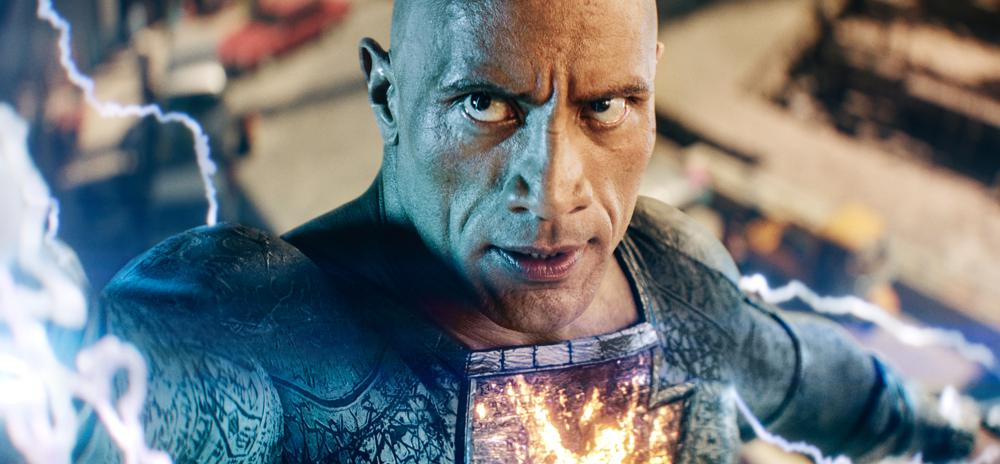 In one telling scene, Black Adam stops for a moment to watch a television with Clint Eastwood as the Man With No Name — an antihero model for Black Adam.
"He has been my inspiration from day one. My favorite actor and certainly one of my favorite directors," Johnson said. "I'm happy to call Clint a buddy. That was my way of paying homage to him."
How Black Adam would be introduced to movie audiences wasn't always clear. Initially, Captain Marvel, also known as Shazam, and Black Adam were to debut in a movie together. After the scripting stage, Johnson and others felt the combined launch did a disservice to Black Adam.
"We did have a template for a really good idea, but ultimately both characters required so much space to properly launch them," said producer Hiram Garcia. "We were just struggling in terms of bandwidth that the script could hold and in terms of tone, as well. Inherently, as you saw with how the 'Shazam' movie came out, that movie is just so differently tonally from how 'Black Adam' is."
"Shazam!" starring Zachary Levi, was a goofy, well-received body-swap hit, grossing $366 million worldwide in 2019 (a sequel is due out in March). The ambitions for "Black Adam" are larger.
The film, made with a budget roughly twice that of "Shazam!" also introduces the Justice Society of America, a superhero team of Hawkman (Aldis Hodge), Doctor Fate (Pierce Brosnan), Atom Smasher (Noah Centineo) and Cyclone (Quintessa Swindell).
"I always felt like it was a matter of convincing our studio partners to try to look beyond the Justice League," Johnson said. "I love the Justice League. But when you look past them, you open up the DC bible. There are so many cool characters you can tap into."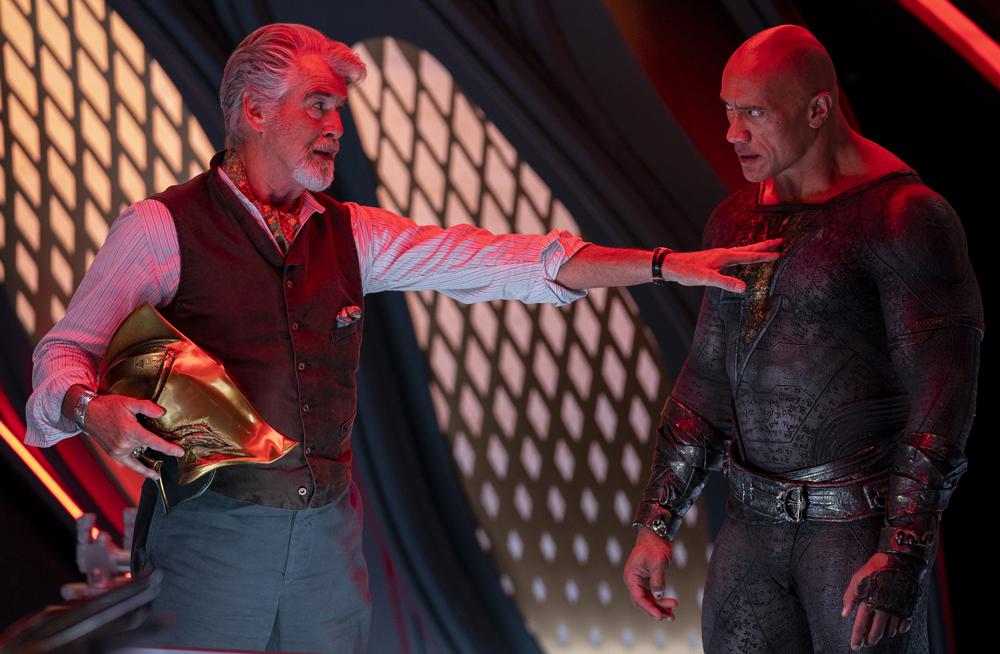 It's been a long haul to develop the film, tailor the part to Johnson and shoot the movie around COVID-19 delays. Johnson was first announced to play Black Adam way back in 2014.
"Easy and this process have not gone together," Garcia said.
But the filmmakers were committed to giving Black Adam the proper launch.
"If Dwayne Johnson's going to do a superhero, the powers better be A-plus," said producer Beau Flynn.
Superhero films aren't often described as a "passion project" but it's how Johnson talks about "Black Adam." He speaks about the character's previously low profile like an underdog.
"No one gave him a shot," he said. Unlike many of the best-known comic-book characters, Johnson is not taking on this role secondhand.
"No other actors had stepped into the boots of Black Adam," said Johnson who professes a deep connection with the character. "I'm a very direct talker. Black Adam is very direct with his thoughts, too. The difference is: Black Adam will slap some people around. I might slap some people around but I'll do it with a smile."
As of this summer, Michael De Luca and Pam Abdy are running Warner Bros.′ revamped film division, though no new DC leader has yet been appointed. Zaslav has been seeking his studio's answer to Marvel's Kevin Feige to take the reigns. For Johnson, "Black Adam" is part of that new chapter for DC.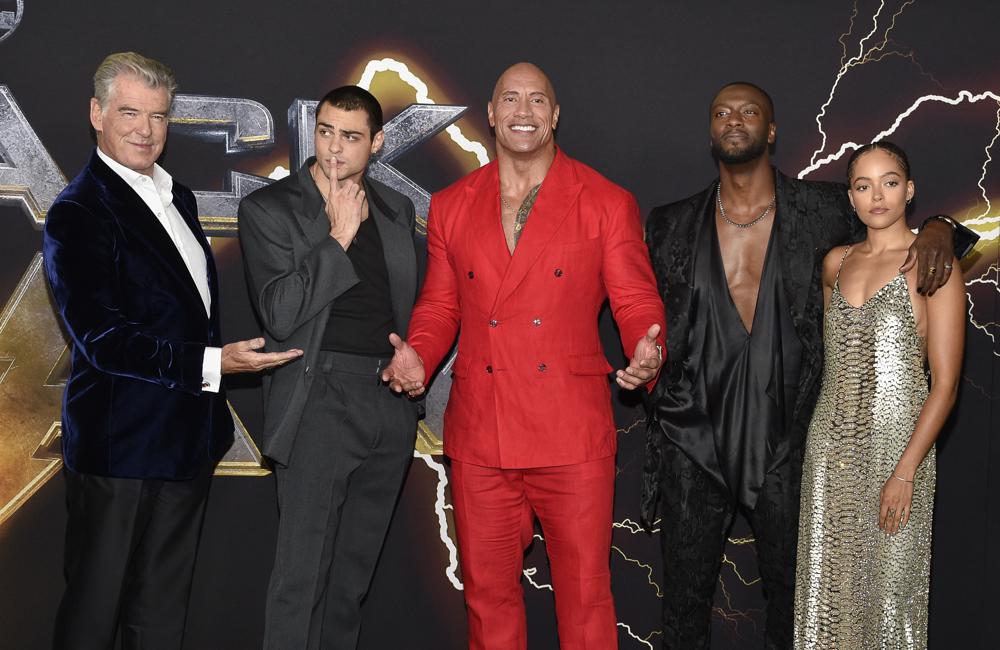 "I think you're feeling this sense of urgency and the sense of excitement," said Johnson. "This has been a great convergence of 'Black Adam' coming out and new leadership."
Tracking reports have suggested that Johnson, 50, could be headed for his biggest opening weekend ever at the box office with "Black Adam." But sounding a little like his WWE wrestler, Johnson is also eyeing his next opponent. Black Adam, he believes, is a lesser power to no superhero. He's gunning for Superman.
"For five years, the most powerful and unstoppable force in the entire superhero universe has been idle on the sidelines. All that had to come to a new end," says Johnson. "This is what I mean with this new era in the DC universe. Let's get that hero off the sidelines and on the big screen."