Orange County Mayor Teresa Jacobs delivers 2015 State of the County Address
ORLANDO, FLORIDA – Orange County Mayor Teresa Jacobs delivered her 2015 State of the County address at the spectacular Dr. Phillips Center for the Performing Arts in the Walt Disney Theater on June 12, 2015.
With more than 750 citizens in attendance, the largest State of the County audience in the history of Orange County, Mayor Jacobs provided dignitaries and citizens with a detailed report on the region's strong and robust economy that saw rising property values, tremendous job growth, historic record-breaking visitation numbers, outstanding economic achievements and remarkable milestones for the region's incredible sports and arts and cultural venues.
"The state of Orange County's economy is strong," Mayor Jacobs said. "By working together, we are creating history."
Mayor Jacobs' capstone announcement outlined a proposal for one of the largest capital investment projects in the history of Orange County, a $300 million initiative called INVEST in Our Home for Life. The funds will be spent on roads, parks, pedestrian safety projects, public and fire safety facilities and affordable family housing in Orange County. INVEST in Our Home for Life will be funded through existing resources thanks to conservative budgeting and an improving economy, not through increased taxes.
"To build a vibrant economy where creativity, innovation and opportunity will flourish, we need to invest now in the infrastructure that future generations will need," Mayor Jacobs said. "From efficient roads to a healthy environment, it's our job and our responsibility to invest wisely."
HIGHLIGHTS AND ACHIEVEMENTS
This year's address focused on the region's significant achievements ranging from Orange County's new multi-modal hub that will historically connect five modes of transit at the Orlando International Airport; new additions at the Dr. Phillips Center; the County's low 4.7 percent unemployment rate – a staggering drop from the 11.3 percent in 2010; projections of nearly $427 million in countywide property tax revenues for the upcoming fiscal year; advances in transportation including the I-4 Ultimate project and SunRail; and transformational opportunities with the opening of the Orlando Veterans Administration Medical Center and the U.S. Tennis Association complex in Lake Nona.
Orange County is now on the world stage for arts, sports, commerce, trade and family entertainment and publications, including Forbes and The New York Times, have taken notice of the region's fiscal reliability and growing quality of life enhancements. In fact, the nation's big three credit agencies – Fitch Ratings, Moody's Investors Service and Standard & Poor's Financial Services – just elevated Orange County's credit ratings to historic levels, an extraordinary reflection of its resilient, prosperous and flourishing economy.
This past year, the region also showcased its story of entrepreneurship, high-tech innovation, world renowned modeling, simulation and training cluster, favorable business environment, cutting-edge film and digital media training facilities and thriving Medical City through its new regional branding campaign Orlando. You don't know the half of it.
TOURISM AND THE I-DRIVE DISTRICT
It's no coincidence that so many have already taken notice of Orange County's worldwide reputation. In May, the tourism economy further solidified the region's position as the No. 1 global destination with Visit Orlando's momentous announcement of 62 million guests visiting the region in 2014.
In tandem with Orange County's economic achievements and with the continued growth of its world famous International Drive and the booming Orange County Convention Center, the County is working to create a revitalized vision for the I-Drive District showcasing new dynamic spaces, including pedestrian plazas, dedicated transit lanes and sidewalk enhancements for local residents and guests to enjoy. With the $187 capital improvement project at the Convention Center and by investing in roadways, infrastructure, transportation connectivity and pedestrian projects that enhance the quality of life for citizens and visitors, the region is securing a dynamic future for generations to come.
TRANSFORMING LIVES
Even as Orange County works on its next chapter as the tourism capital of the world, the County is focused on caring for its most vulnerable citizens in transformational ways. Through valued partnerships with the faith and social service organizations, Orange County is lifting longtime homeless individuals, families and veterans on a path of hope and stability. For decades, Orange County has been the leading provider of services for the homeless, budgeting more than $5 million every year. With the Commission on Regional Homelessness and the creation of Orange County's Family Homelessness Committee, the region has pledged to end veteran homelessness in Central Florida. Orange County also recently launched Open Table bringing homeless families on the path of self-sufficiency.
Orange County is also playing a critical role in other serious struggles. Through its Youth Mental Health Commission Implementation Team, the County is making sure that young people receive the care that addresses behavioral and mental health issues. Keenly aware of the undeniable connection between domestic violence and child abuse, the domestic violence commission was also renamed the Orange County Domestic Violence and Child Abuse Commission in early 2015.
TECHNOLOGICAL ADVANCES AND GROWING ONLINE ENGAGEMENT
As Orange County continues to invest in its children and families, citizens are now able to learn about opportunities to give back to the community by using the County's newest smartphone application, OCFL Serves. This free app places a variety of Orange County service opportunities at the fingertips of citizens and brings volunteering into the digital age. (Android | Apple)
Mayor Jacobs' commitment to public engagement was again demonstrated with the return of last year's Social Media Ambassadors who worked to expand the online conversation with the digital community. Joining the Social Media Ambassadors for a special pre-party were digital influencers and community partners who kicked off the conversation before the 2015 State of the County address using the locally created photo booth experience, Gifn. Throughout the Mayor's speech, these digital influencers promoted the live stream of the event and their favorite highlights. These combined efforts contributed to an outpouring of social media engagement which encouraged residents to become more involved with their local government.
PARTICIPANTS
Central Florida Hotel and Lodging Association President and CEO Rich Maladecki provided the introduction and Sisaundra Lewis, a finalist on NBC's "The Voice" last year, sang the National Anthem. Retired Army Sgt. Juan Velazquez led the Pledge of Allegiance and the colors were presented by Orange County Fire Rescue. First Baptist Church of Orlando Senior Pastor David Uth, Ph.D., delivered the invocation, and classically trained musicians Stephen and Vanessa Huber Weber delivered the preamble.
Stocks fall as Fed signals rates need to go still higher
Stocks closed lower on Wall Street and Treasury yields rose Thursday afternoon after more indications from the Federal Reserve that it may need to raise interest rates much higher than many people expect to get inflation under control.
The S&P 500 fell 0.3%, with retailers and banks among the biggest weights on the benchmark index. The Dow Jones Industrial Average slipped less than 0.1%, while the Nasdaq composite closed 0.3% lower.
Decliners outnumbered gainers on the New York Stock Exchange by nearly a 2-to-1 margin. Smaller company stocks fell harder than the rest of the market, pulling the Russell 2000 index 0.8% lower.
Bond yields rose and hovered around multidecade highs. The yield on the two-year Treasury note rose to 4.45% from 4.37% late Wednesday. The yield on the 10-year Treasury, which influences rates on mortgages and other consumer loans, rose to 3.77% from 3.69% late Wednesday.
The Fed has been raising rates aggressively in order to tame inflation by applying the brakes to the economy. Investors have been hoping that more signs of easing inflation could help the central bank shift to less aggressive rate increases.
The central bank, though, has been clear about its intent to keep raising rates, possibly to unexpectedly high levels, to tame inflation. James Bullard, who leads the Federal Reserve Bank of St. Louis, reaffirmed that position in a presentation on Thursday, suggesting the Fed's short-term rate may have to rise to a level between 5% and 7% in order to quash stubbornly hot inflation. The central bank has already raised its key rate to a range of 3.75% to 4%, up from nearly zero as recently as last March.
"Bullard's comments this morning suggesting that they need to get the fed fund (rate) between 5% and 7% was a surprise, to say the least, to markets," said Scott Ladner, chief investment officer at Horizon Investments. "That certainly was a shock to folks and pushed us further down."
The S&P 500 fell 12.23 points to 3,946.56. The Dow dropped 7.51 points to 33,546.32. The Nasdaq lost 38.70 points to close at 11,144.96. The Russell 2000 index fell 14.04 points to 1,839.12. The major indexes are all headed for weekly losses.
The presentation from Bullard follows reports showing that inflation is starting to ease somewhat, but still remains extremely hot as consumers continue spending amid a very strong jobs market. Strong spending and employment remain a potential bulwark against the economy slipping into a recession. It also means the Fed will likely remain aggressive and raises the risk that it will hit the brakes hard enough on the economy to actually bring on a recession.
Stock markets "got a little bit ahead of themselves" after getting encouraging reports on consumer and wholesale prices easing a bit, said Ross Mayfield, investment strategist at Baird. "But, the Fed knows they have a long way to go."
"When you have the (Fed) statement already laying it out and someone like Bullard saying what he said, there is a little bit of jawboning markets back down and letting investors know this fight is not over."
Outside of concerns about inflation, the market is also worried about Russia's war in Ukraine and lockdowns in China hurting the global economy.
The conflict in Ukraine has been weighing on the energy sector and any worsening could cause spikes in prices for oil, gas and other commodities that the region produces. U.S. oil prices fell 4.6%.
China's "zero-COVID" approach has caused a supply crunch for some of Asia's biggest manufacturers, denting economic growth.
Markets in Asia and Europe fell.
Companies are also wrapping up the latest round of earnings reports. Macy's jumped 15% after beating analysts' quarterly financial forecasts and raising its earnings outlook.
Retailer Bath & Body Works soared 25.2% after reporting strong financial results.
CFHLA CEO Robert Agrusa Receives Recognition from State Rep. Daisy Morales
ORLANDO, Fla. (FNN) – State Representative Daisy Morales (D-Orlando) presented Central Florida Hotel & Lodging Association President and CEO Robert Agrusa with a certificate at the CFHLA headquarters last week.
Rep. Morales honored his and the CFHLA's strong relationship and support for her office. The certificate for "Outstanding Support" reads in part: "I hereby recognize you for your support of the Office of State Representative Daisy Morales."
"I'm honored to recognize Mr. Agrusa," said Representative Morales. "I appreciate Mr. Agrusa's and the CFHLA's commitment to our rebounding and ever-growing hospitality industry."
According to research done earlier this year, some 36 million travelers visited Florida in the first quarter of 2022, just six million more than the visitors in 4th quarter of 2021, and the numbers are on a steady upward trajectory. Prior to the pandemic, Florida boasted an average of over 72 million visitors per year.
The CFHLA will host its annual Hospitality Gala, its signature black tie event in which the organization recognizes hospitality industry leaders and supporters, on December 17, 2022 at the Disney Coronado Resort.
____________________________________________
Mellissa Thomas is Editor for Florida National News. | mellissa.thomas@floridanationalnews.com
Hotelier Jan Gautam receives Impact Award from State Representative Daisy Morales
ORLANDO, Fla. (FNN) – Florida State Representative Daisy Morales (D-Orlando) presented Jan Gautam, President and CEO of IHRMC with her office 2022 Impact Award during an annual Diwali celebration on October 28.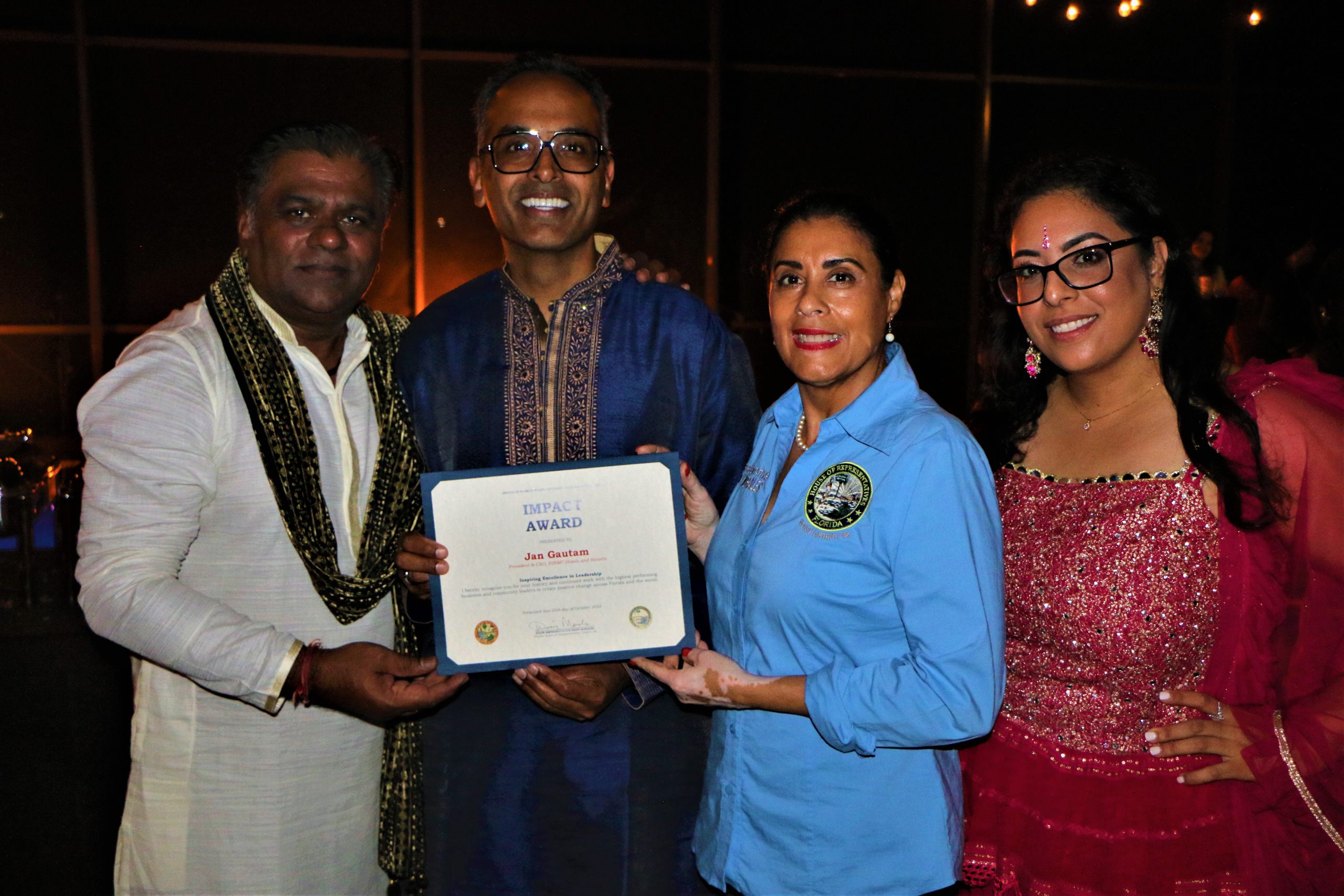 Mr. Gautam is the President & CEO of Interessant Hotel & Resort Management (IHRMC), a hotel management company that owns, operates, and develops hotel properties globally. Gautam has achieved recognition in leading organizations and committees in which he has dedicated countless hours to in order to support his commitment to the hospitality industry & is heavily involved in numerous national & local chapters & boards to support tourism and governmental interaction that supported or held consensus to expanding the well-being of hotel owners and business associations.
"I'm honored to recognize business leaders this way," said Representative Morales. "I'm so proud of Mr. Gautam's commitment to the hospitality industry and his outstanding community service to Central Florida makes him right choice for this award."
According to his website, Gautam "has served on committees such as the Asian American Hotel Owners Association (AAHOA) as a Regional Ambassador, Board of Directors with Visit Florida, Board of Directors with Florida Restaurant & Lodging Association, InterContinental Hotels Responsible Business Committee, IHG Procurement Committee, Rollins College International Advisory Board Bylaws Committee, Indian American Chamber of Commerce Board of Directors, and numerous local chapters to support Tourism and Governmental interaction that supported or held consensus to expanding the wellbeing of hotel owners and business associations alike."
Gautam hosted a Diwali celebration in Kissimmee and took time to share the Hindu holiday's meaning as well as his community's goal to make it nationally recognized.