School Board Member Johanna López, State Rep. Daisy Morales Could Face Off in New House District 43 Race
ORLANDO, Fla. (FNN) – In March, the Florida Supreme Court approved a new Senate map (S 8058) with 40 districts and a House map (H 2013) with 120 seats for the 2022 elections.
The new State House map splits State Representative Daisy Morales' District 48 into Districts 43 and 44 (see above). In whole, District 48 has the largest Puerto Rican population in Orange County. Both new districts have a solid Democratic voter base, but that large Puerto Rican population is also split now.
Rep. Morales told Florida National News that all options are open as it relates to the new District map. She said she would take time to consult with family, friends, supporters and District 48 constituents in deciding the next step.
Rep. Morales' District 48 office is located in newly redrawn District 43. Orange County School Board member Johanna López, who made history in 2018 by becoming the first Puerto Rican elected to the school board, recently announced her candidacy for House District 43.
According to Florida Politics, School Board member López told the news outlet that she's running for HD 43 regardless of whether Morales runs for District 43 or 44.
School Board member López and State Rep. Morales, both Puerto Ricans, made education a top priority. At the state level, Morales is a member of the House's Education and Employment Committee and the Post-Secondary Education & Lifelong Learning Subcommittee.
A possible Rep. Morales vs. School Board member López race won't be a historic election for the newly drawn District 43 seat. U.S. Rep. Darren Soto, State Senator Victor Torres and Orange County Property Appraiser Amy Mercado, all Puerto Ricans, were elected by Orange County to the State House.
Morales Won the District 48 Seat by a Landslide
Rep. Morales, a Democrat of Puerto Rican descent, won the District 48 seat in 2020 by defeating her Republican opponent Jesus Martinez 65 percent to 35 percent of the vote.
Before winning the general election, Morales defeated four Democratic primary candidates, including Julio Rocha (11 percent of the vote), Nelson Peña (10 percent), Tony Tsonis (9 percent), and Samuel Vilchez Santiago (30 percent of the vote).
Morales defeated Santiago by 10 percent of the vote. He was endorsed by the party's progressive leaders like School Board Member López (his campaign manager), Rep. Anna V. Eskamani, Rep. Carlos Guillermo Smith, and District 48 incumbent Rep. Amy Mercado.
Santiago nabbed more major endorsements, including the Orlando Sentinel, and secured more funding than Morales. Both the establishment and the progressive community underestimated Morales, putting all of their chips in with Santiago.
Endorsements poured in for Santiago from current and former elected officials, and some of the most prominent political organizations and advocacy groups, including:
State Representative Dan Daley
Former School Board Member Daryl Fernandez Flynn
Orange Soil & Water Conservation District Board Chair Dawn Curtis
Rainbow Democrats
IUPAC
SEIU Florida
National Organization for Women (NOW) Florida
Florida Realtors PAC
Orlando Regional Realtors Association (ORRA)
Democratic Progressive Caucus of Florida
Florida LGBTQ Democratic Caucus
Equality Florida Action PAC
Florida For All
Young Democrats of Orange County
Latino Victory
IAFF
FPF
Vote Pro Choice
Women's March Florida
Run for Something
Central Florida Hotel & Lodging Association (CFHLA)
Florida Medical Association PAC
Santiago had an army of volunteers that knocked on thousands of doors. It looked as if he and his supporters had the victory in the bag.
In the end, though, none of that mattered to the voters who elected Morales.
Turns out Morales had countywide name recognition as an elected official. She had won re-election in 2018 by a landslide (64 percent to 36 percent) to retain her seat as an elected Supervisor on the Orange County Soil and Water Conservation District Board.
Communities in Districts 43 and 44
District 43 communities include East-central Orange, including Azalea Park, Union Park and Rio Pinar.
Communities in District 44 still include Hunters Creek, Taft, Meadow Woods, the Florida Mall area, Sky Lake and Southchase from the previous District 48. The redraw adds Doctor Phillips, Universal Orlando and SeaWorld areas (Williamsburg) and the northern portion of Lake Nona. It has a solid Democratic voter base.
Florida Politics reports that Democratic Rep. Geraldine Thompson and Rep. Morales represented various parts of that area prior to the redraw. Thompson is now running for Florida Senate.
A Quick Comparison
Should she choose to run in HD 43, Rep. Morales would enter the race with the incumbent advantage and track record of surprising results for a freshman lawmaker. In the 2021 Legislative Session, Morales sponsored and co-sponsored 58 bills that were signed into law. At the end of the 2022 Legislative Session in early March, 55 bills she sponsored and co-sponsored have passed both the Florida House and Florida Senate and are headed to the governor's desk.
Additionally, during the 2021 Legislative Session, Rep. Morales' proposal of over $900,000 in appropriations projects for District 48 was added to the state budget prior to Governor DeSantis' budget cuts.
Rep. Morales made life easier for Florida barbers in the heat of the pandemic with the passage her Barber Services Bill, which allowed brick-and-mortar barbershop owners to go mobile with their services and meet clients where they are, which was instrumental during the Florida's transition out of total shutdown.
Rep. Morales also spearheaded the House Resolution recognizing World Vitiligo Day, raising awareness of the "silent disease" in a ceremony at Orlando City Hall in June of 2021.
Morales has aided District 48 residents with food and clothing distribution events before and during the pandemic. Once COVID-19 vaccines were made available, she hosted COVID-19 vaccination events to ensure residents and their families felt safe. She also hosted her inaugural District 48 Community Job Fair in partnership with Orlando District 2 Commissioner Tony Ortiz in October of 2021.
School Board member López enters the race as a strong proponent of family empowerment and quality education for Latino students and communities. She was recognized in the Congressional Record by U.S. Rep. Stephanie Murphy for Hispanic History Month in October of 2021.
According to her campaign website, since being elected to the Orange County School Board in 2018, López "has championed the well-being of students in the wake of the pandemic, worked to empower the most vulnerable students, fought to increase benefits and pay for teachers and other school staff such as bus drivers and janitors, and successfully led the renaming of Stonewall Jackson Middle School to Roberto Clemente Middle School."
López was also named the Executive Director at Alianza Center, an Orlando-based non-profit that focuses on empowering the Latino community, at the start of 2021. Her campaign site shares that in her new leadership role, she "has led COVID-19 vaccination and information campaigns, youth summer camps, and community-based civic engagement programs."
The primary election takes place August 23, 2022. After the chips fall where they may, the general election happens November 8, 2022.
Learn more about School Board member Johanna López's campaign here. For State Rep. Morales' campaign, click here.
PHOTOS: The Complete 25th Don Quijote Awards Winners List
ORLANDO, Fla. (FNN) – The Don Quijote Awards, presented by the Hispanic Chamber of Commerce of Metro Orlando and Prospera, is Central Florida's premier business awards gala with good reason.
The black-tie gala, which celebrates the Hispanic business community by recognizing small business owners as well as business and community leaders who help propel the Hispanic business community forward, filled Epcot's Showplace Pavilion with well over 1,000 formally dressed attendees for its 25th anniversary Saturday.
The prestigious ceremony recognizes companies and individuals in six categories:
Hispanic Business of the Year, 5 Years or Less
Hispanic Business of the Year, Over 5 years
Professional of the Year
Excellence Award
Hispanic Community Champion (this award is given to a non-Hispanic who avidly works to support and strengthen the Hispanic community)
Lifetime Achievement Award
The 2022 Don Quijote Award Winners
Hispanic Business of the Year, 5 Years or Less: Guacamole Mexican Grill
Hispanic Business of the Year, Over 5 years: SkyBuilders USA
Professional of the Year: Luis Nieves-Ruiz, Economic Development Director, East Central Florida Regional Planning Council
Excellence Award: Former State Representative Bob Cortes,
Senior Government Affairs Administrator, Seminole County Sheriff's Office
Hispanic Community Champion: Dr. James Michael Burkett, President, Florida Technical College
Lifetime Achievement Award: Modesto Alcala,
Senior VP of Global Restaurant Development and Placemaking for Universal Creative at Universal Parks & Resorts
___________________________________________________________
Mellissa Thomas is Editor for Florida National News. | mellissa.thomas@floridanationalnews.com
Lt. Governor Nominee Karla Hernández's 'Latinas for Choice' Tour Kickoff Lacks Hispanic Women Leaders
ORLANDO, Fla. (FNN) – Karla Hernández, Democratic nominee for Lieutenant Governor of Florida, held a press conference outside of Orlando City Hall to announce the campaign's Latinas For Choice tour Wednesday morning.
Hernández was joined by five progressive activists, including Orange County School Board Member Johnna Lopez, State Representative Anna Eskamani and former State Representative District 48 candidate Samuel Vilchez Santiago.
The following Orange County Hispanic women elected leaders did not attend Hernandez's Latinas for Choice announcement:
Florida State Representative Daisy Morales
Orange County District 3 Commissioner Mayra Uribe
Orange County District 4 Commissioner Maribel Gomez Cordero
Orange County District 5 Commissioner Emily Bonilla
Orange County Property Appraiser Amy Mercado
Orange County Soil & Water Conservation District Supervisor Raquel Lozano
While the campaign tour is just launched and in its infancy, the press conference showcased a humble beginning in terms of support for a major support. It appeared that no Spanish-speaking news outlets were present to cover the announcement. Local media outlets WESH 2, WFTV Channel 9 and Florida National News were the outlets present.
Two of the six individuals at the podium being men, and one being a young student. The total number of Latinas, then, was three–if the young lady is included in the count.
However, there may be a reason for that.
New Poll Shows a Different Priority Among Latino Voters
The Palm Beach Post reported findings from a recent poll which showed that 70% of Florida Hispanics oppose making abortion illegal, but it's not their biggest issue. According to the Post, a large majority of Florida Hispanic voters believe it's wrong to make abortion illegal, even if it goes against their personal beliefs. Here's the breakdown of what Hispanic voters in the poll feel are "the most important issues that elected officials should address":
Inflation/rising cost of living (53%)
Crime/gun violence (38%)
Jobs/economy (36%)
Healthcare (21%)
Climate/environment (16%)
Abortion, at 15%, tied with a lack of affordable housing/high rents and Social Security and Medicare.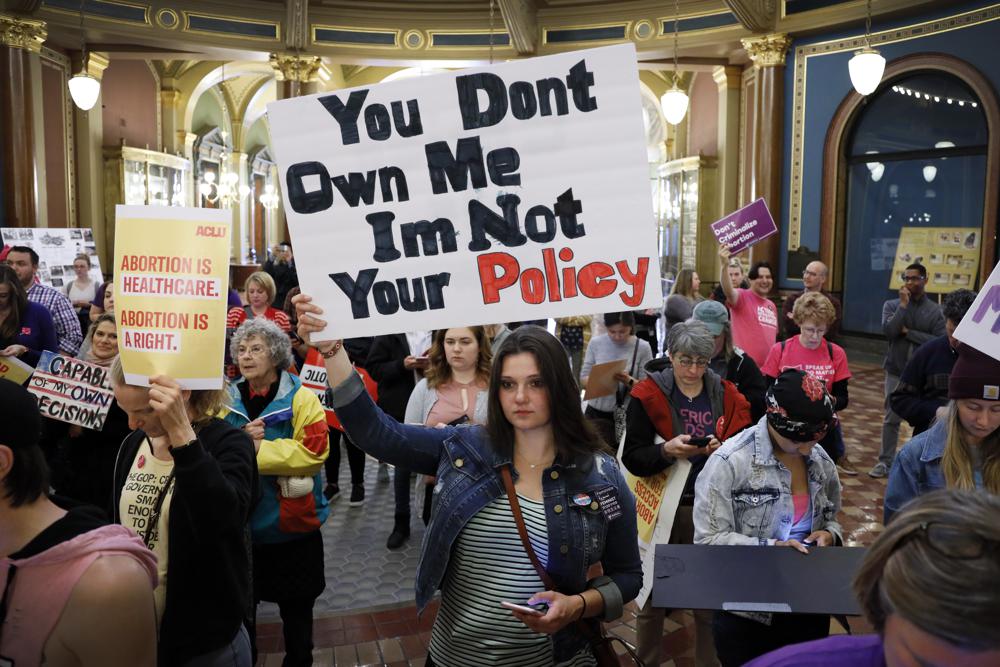 When asked about this during the press conference, Hernandez assured that Charlie Crist, assuming he's elected governor in November, would prioritize legislation addressing the top three priorities listed in the poll. Watch the livestream of the full press conference above.
VIDEO: Morales Campaign Drops Rita Harris's F-Bomb-Laced Tirade Targeting Bernie Sanders and Progressive Supporters
ORLANDO, Fla. (FNN) – The Daisy Morales campaign released a video over the weekend of opponent Jennifer "Rita" Harris's profanity-laced tirade against U.S. Senator Bernie Sanders and his progressive supporters on Harris's Medium blog account.
Harris has deleted the account.
The Morales campaign brought the receipts in this press release, with screenshots from Harris's Medium blog account and various Facebook posts.
Morales's campaign pointed out the irony of Harris's attack on Sen. Bernie Sanders and his supporters and her current backing by the progressive arm of the Democratic Party, United for Progress, Ruth's List Florida, and other progressive groups.
The Morales campaign slammed Harris in the press release saying "she cannot be trusted, is unfit to serve in public office, and isn't safe around children younger than 13 years old when it comes to vulgar language, dubbing herself a "part time a**hole" on her Medium blog account (which, by the way, has now been taken down)."
Harris's Medium post, "Be Gone Bernie Sanders, and Take Your Little Bots Too," attacks Bernie Sanders and his progressive supporters with a slew of profanities. The campaign warns that viewers will need earbuds to view the video, which is an almost seven-minute voice-to-text read-along of the blog post.
The Morales campaign continued its attack, followed by several screenshots of Harris's Facebook posts containing F-bombs: "Tallahassee lawmakers are expected to represent the people of our districts and the state of Florida with dignity and respect. Not everything has to be a vulgar attack. Anger must be controlled. And Harris seems to have a lot of it—minus the control.
"Her social media posts are riddled with F-bombs, whether they are friendly or contentious."
The Morales campaign ended the video drop by saying, "This is the real Jennifer "Rita" Harris."
The Morales Campaign Triples Down on Harris's Business Background
Following the video drop, the Morales campaign again highlights Harris's business background, referring to the Orlando Sentinel's most recent article with Harris finally opening up about her business background.
The press release says in relevant part:
"If all that wasn't enough, Harris isn't forthcoming about her business background. She kept that information from the voters and from the media. Her campaign never listed her business background, and the voters have a right to know. She admitted herself to the Orlando Sentinel in a recent article that she only lists herself as a CEO of her husband's company, Harris Cloud Consulting, on LinkedIn "for networking purposes." Why is that deception necessary? There's nothing wrong with being a housewife promoting your husband's company on his behalf.
"It turns out Harris Cloud Consulting isn't the first company she's been listed as the CEO for. She was the CEO of Kronos Unlimited, LLC, a failed business dissolved by the State. This looks like a pattern. She's essentially a fake CEO. It's also interesting that the Orlando Sentinel learned of her deception after they endorsed her.
"If she's being deceptive here and now, what's to stop her from doing it in Tallahassee? What else is she being dishonest about? (Besides the work address for one of the companies they registered in Florida using a non-Florida address and zip code.)"
Morales Campaign Also Doubles Down on Lack of Vetting on Harris
"All of this foolishness speaks loudly to the lack of a real background check on the part of the people and organizations endorsing Harris, like the Democratic establishment and high profile Democrats like Charlie Crist, State Attorney Monique Worrell, State Senators Victor Torres and Jason Pizzo, and School Board Member Johanna Lopez, just name a few," said Rep. Morales in the press release.
"There are Democratic candidates in other Florida races that organizations and elected officials have had to rescind their endorsements from because they failed to do their research. State Rep. Anna Eskamani warned Florida Democrats of that recently concerning the Ag Commissioner race."
Rep. Morales went on to say that Harris's titles as Orange County Democratic Party Vice Chair and founder and former President of the Democratic Women's Club of South Orange County don't exempt her from a thorough background check, saying that even those running for US President have to undergo rigorous scrutiny. "It seems like in this race, many turned a blind eye to Harris's history."
Morales ends the press release by expressed gratitude for "the concerned voters that brought this to my campaign's attention."