Supervisor Daisy Morales Wins Straw Polls Despite No-Shows
ORLANDO, Fla. (FNN NEWS) – Orange County Soil & Water Conservation District Board Supervisor and Vice Chairman Daisy Morales has won two out of three political straw polls and losing one poll by only two votes as a no-show candidate.
Incumbent Supervisor Morales was elected in 2014 to serve on the Conservation Board. She is running for reelection against Sean McQuade of Apopka in the 2018 general election November 6.
Morales shared with FNN News one reason she missed the hob nobs: family. Morales is the sole caretaker for her sister, who has special needs and was hospitalized at the time of the hob nobs.
Her straw poll victories appear to point to the community's level of trust in her, despite her absence. Since her election in 2014, she has been heavily involved in educating Orange County residents and schools on the importance of soil and water conservation as well as pointing them to resources that help them protect the environment, including hosting an annual Earth Day Awareness tour for the community's underserved.
Apopka Straw Poll | 27 Candidates | Results
The Apopka Area Chamber of Commerce held its 2018 Apopka Area Political Hob Nob & Straw Poll on July 10. McQuade squeaked out his straw poll win against Morales by just two votes, with 82 (50.62%) votes to her 80 (49.38%).
One possible contributing factor to the close vote in Apopka's straw poll is Supervisor Morales's soil and water work there. In 2015, she and the USDA partnered to host her inaugural Earth Day Awareness Tour at Apopka City Hall which had a bevy of elected officials and community leaders in attendance:
Chuck O'Rourke with the USDA's Natural Resources Conservation Service (USDA-NRCS)
Apopka Mayor Joe Kilsheimer
Apopka City Commissioner Diane Velazquez
Nattacha Wyllie, Special Assistant to the Eatonville Mayor
Julie Rojas-Stayrook with the Orange County Public Schools (OCPS) Farmwork Job and Education Program
Osceola Soil & Water Conservation District Supervisor Mildred Ramirez
Osceola County Clerk of Courts Armando Ramirez
UCF's SGA Health & Sustainability Coordinator Emily Dovydaitis
SEIU Organizer Terri Falbo
Farmworker Association of Florida Representatives
and other stakeholders from organizations supportive of environmental and sustainability efforts.
Apopka's reputation as the "Indoor Foliage Capital of the World" because of its multi-million dollar foliage industry is one of the reasons Supervisor Morales chose Apopka to hold her first annual Earth Day Awareness Tour, and she remained engaged with Apopka in partnership with the USDA. In 2017, she and USDA officials toured several Apopka nurseries to inspect the progress of a $1M grant to upgrade nursery filtration systems.
Pine Hills Straw Poll | 36 Candidates | Results
The Pine Hills Community Council held its 2018 Pine Hills Greater Orlando Hob Nob and Straw Poll on July 12. Supervisor Morales received 151 votes (56.98%) to McQuade's 114 votes (43.02%).
Supervisor Morales is heavily involved in the Pine Hills community, including hosting Pine Hills students at the historic Leu Gardens for her 2017 Earth Day Awareness Tour and was Teacher for a Day at Oak Hill Elementary School in 2016.
Hispanic Chamber Straw Poll | 50 Campaigns | Results
The Hispanic Chamber of Commerce of Metro-Orlando (HCCMO) hosted its 2018 Political Hob Nob at Orlando Fashion Square July 27, which neither Morales nor McQuade attended. Supervisor Morales won 63.7% of the straw poll votes to McQuade's 36.3%.
Morales is actively involved with the Hispanic Chamber and Hispanic business organizations, participating in business conferences and launches, and the prestigious annual Don Quijote Awards. She is an advisory member of Orange County 4-H, which focuses on Spanish-speaking youth in Orange County.
For nearly four years, Supervisors Daisy Morales (Vice Chairman) and Eric Rollings (Chairman) have been the most visible, active and engaged elected officials on the five-member Board of Supervisors which oversee the Orange County Soil & Water Conservation District.
___________________________________
Mellissa Thomas is Editor for Florida National News. | mellissa.thomas@floridanationalnews.com
Lt. Governor Nominee Karla Hernández's 'Latinas for Choice' Tour Kickoff Lacks Hispanic Women Leaders
ORLANDO, Fla. (FNN) – Karla Hernández, Democratic nominee for Lieutenant Governor of Florida, held a press conference outside of Orlando City Hall to announce the campaign's Latinas For Choice tour Wednesday morning.
Hernández was joined by five progressive activists, including Orange County School Board Member Johnna Lopez, State Representative Anna Eskamani and former State Representative District 48 candidate Samuel Vilchez Santiago.
The following Orange County Hispanic women elected leaders did not attend Hernandez's Latinas for Choice announcement:
Florida State Representative Daisy Morales
Orange County District 3 Commissioner Mayra Uribe
Orange County District 4 Commissioner Maribel Gomez Cordero
Orange County District 5 Commissioner Emily Bonilla
Orange County Property Appraiser Amy Mercado
Orange County Soil & Water Conservation District Supervisor Raquel Lozano
While the campaign tour is just launched and in its infancy, the press conference showcased a humble beginning in terms of support for a major support. It appeared that no Spanish-speaking news outlets were present to cover the announcement. Local media outlets WESH 2, WFTV Channel 9 and Florida National News were the outlets present.
Two of the six individuals at the podium being men, and one being a young student. The total number of Latinas, then, was three–if the young lady is included in the count.
However, there may be a reason for that.
New Poll Shows a Different Priority Among Latino Voters
The Palm Beach Post reported findings from a recent poll which showed that 70% of Florida Hispanics oppose making abortion illegal, but it's not their biggest issue. According to the Post, a large majority of Florida Hispanic voters believe it's wrong to make abortion illegal, even if it goes against their personal beliefs. Here's the breakdown of what Hispanic voters in the poll feel are "the most important issues that elected officials should address":
Inflation/rising cost of living (53%)
Crime/gun violence (38%)
Jobs/economy (36%)
Healthcare (21%)
Climate/environment (16%)
Abortion, at 15%, tied with a lack of affordable housing/high rents and Social Security and Medicare.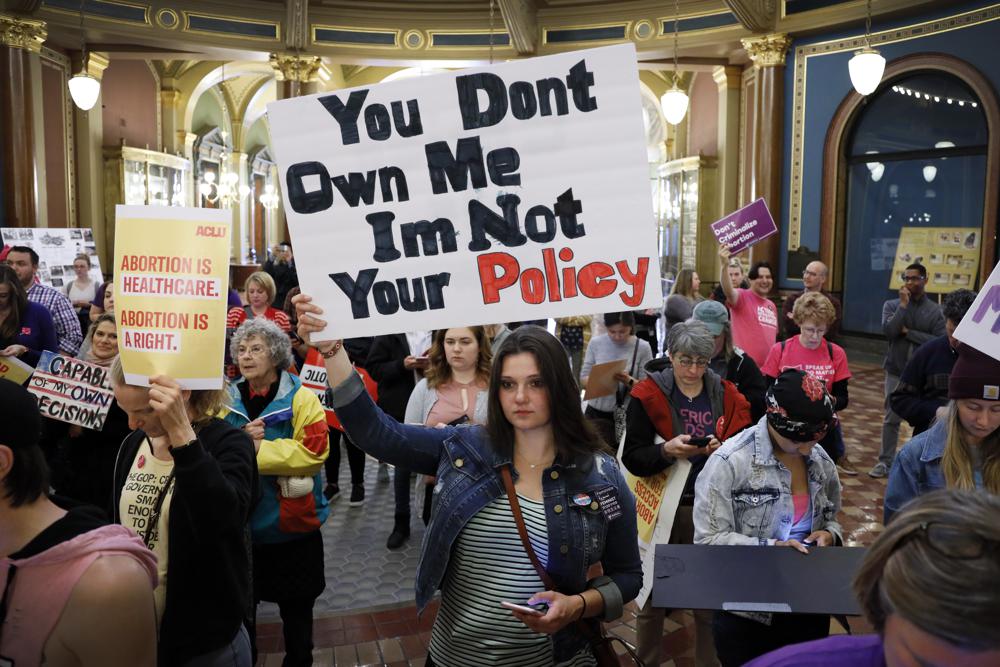 When asked about this during the press conference, Hernandez assured that Charlie Crist, assuming he's elected governor in November, would prioritize legislation addressing the top three priorities listed in the poll. Watch the livestream of the full press conference above.
VIDEO: Morales Campaign Drops Rita Harris's F-Bomb-Laced Tirade Targeting Bernie Sanders and Progressive Supporters
ORLANDO, Fla. (FNN) – The Daisy Morales campaign released a video over the weekend of opponent Jennifer "Rita" Harris's profanity-laced tirade against U.S. Senator Bernie Sanders and his progressive supporters on Harris's Medium blog account.
Harris has deleted the account.
The Morales campaign brought the receipts in this press release, with screenshots from Harris's Medium blog account and various Facebook posts.
Morales's campaign pointed out the irony of Harris's attack on Sen. Bernie Sanders and his supporters and her current backing by the progressive arm of the Democratic Party, United for Progress, Ruth's List Florida, and other progressive groups.
The Morales campaign slammed Harris in the press release saying "she cannot be trusted, is unfit to serve in public office, and isn't safe around children younger than 13 years old when it comes to vulgar language, dubbing herself a "part time a**hole" on her Medium blog account (which, by the way, has now been taken down)."
Harris's Medium post, "Be Gone Bernie Sanders, and Take Your Little Bots Too," attacks Bernie Sanders and his progressive supporters with a slew of profanities. The campaign warns that viewers will need earbuds to view the video, which is an almost seven-minute voice-to-text read-along of the blog post.
The Morales campaign continued its attack, followed by several screenshots of Harris's Facebook posts containing F-bombs: "Tallahassee lawmakers are expected to represent the people of our districts and the state of Florida with dignity and respect. Not everything has to be a vulgar attack. Anger must be controlled. And Harris seems to have a lot of it—minus the control.
"Her social media posts are riddled with F-bombs, whether they are friendly or contentious."
The Morales campaign ended the video drop by saying, "This is the real Jennifer "Rita" Harris."
The Morales Campaign Triples Down on Harris's Business Background
Following the video drop, the Morales campaign again highlights Harris's business background, referring to the Orlando Sentinel's most recent article with Harris finally opening up about her business background.
The press release says in relevant part:
"If all that wasn't enough, Harris isn't forthcoming about her business background. She kept that information from the voters and from the media. Her campaign never listed her business background, and the voters have a right to know. She admitted herself to the Orlando Sentinel in a recent article that she only lists herself as a CEO of her husband's company, Harris Cloud Consulting, on LinkedIn "for networking purposes." Why is that deception necessary? There's nothing wrong with being a housewife promoting your husband's company on his behalf.
"It turns out Harris Cloud Consulting isn't the first company she's been listed as the CEO for. She was the CEO of Kronos Unlimited, LLC, a failed business dissolved by the State. This looks like a pattern. She's essentially a fake CEO. It's also interesting that the Orlando Sentinel learned of her deception after they endorsed her.
"If she's being deceptive here and now, what's to stop her from doing it in Tallahassee? What else is she being dishonest about? (Besides the work address for one of the companies they registered in Florida using a non-Florida address and zip code.)"
Morales Campaign Also Doubles Down on Lack of Vetting on Harris
"All of this foolishness speaks loudly to the lack of a real background check on the part of the people and organizations endorsing Harris, like the Democratic establishment and high profile Democrats like Charlie Crist, State Attorney Monique Worrell, State Senators Victor Torres and Jason Pizzo, and School Board Member Johanna Lopez, just name a few," said Rep. Morales in the press release.
"There are Democratic candidates in other Florida races that organizations and elected officials have had to rescind their endorsements from because they failed to do their research. State Rep. Anna Eskamani warned Florida Democrats of that recently concerning the Ag Commissioner race."
Rep. Morales went on to say that Harris's titles as Orange County Democratic Party Vice Chair and founder and former President of the Democratic Women's Club of South Orange County don't exempt her from a thorough background check, saying that even those running for US President have to undergo rigorous scrutiny. "It seems like in this race, many turned a blind eye to Harris's history."
Morales ends the press release by expressed gratitude for "the concerned voters that brought this to my campaign's attention."
Black Lives Matter Group Slams Osceola County Sheriff Lopez in Target Shooting
KISSIMMEE, Fla. (FNN) – Black Lives Matter Restoration Polk, Inc. called for the resignation of Osceola County Sheriff Marcos Lopez during a press conference in Kissimmee Tuesday after the deputy-involved shooting at Target in late April resulting in a death.
Pastor Carl Soto, BLMRP co-founder and vice president, slammed Osceola County Sheriff Marcos Lopez in light of the incident that killed 20-year-old Jayden Baez and injured 18-year-old Michael Gomez and 19-year-old Joseph Lowe.
Video released from the Osceola County sheriff's office shows the victim's car going forward when deputies surrounded it. Four people inside the car, including 20-year-old Jayden Baez, were accused of shoplifting. Baez died when deputies fired gunshots.
Pastor Soto noted that the surviving victims of the shooting claim they had their hands up before the shots fired. He clarified that according to the victims, all of the law enforcement vehicles were not only unmarked, but didn't sound any sirens or flashed any police lights when they approached. He further said that, according to the video, an unmarked deputy vehicle, a silver Ford F-150, struck the vehicle the victims were in first before their vehicle made any moves.
Soto slammed the fact that the deputies involved weren't wearing body cameras and Sheriff Lopez for clearing his deputies of any wrongdoing.
"We have severe concerns about the credibility of Sheriff Marcos Lopez and demand for him to resign," Soto pushed during the press conference, demanding criminal charges be filed against "each and every deputy" that discharged their firearms during the incident. He further demanded an independent investigation by the U.S. Department of Justice since, according to him, the FDLE "can't be transparent" in shootings that involve law enforcement officers. He called on State Attorney Monique Worrell to "do her job" and press charges against the deputies involved immediately.
"We are talking about three teens that allegedly took Pokemon cards…and a box of pizza. We're not condoning that, but that amounts to a misdemeanor. We now have a 20-year-old that's dead, we have a 19-year-old that's in the hospital, and an 18-year-old that nearly got his hand blown off."
Soto, who said he is the nephew of a lieutenant and the brother of a sergeant, emphasized that the deputies involved are "peace officers" first and should have pursued peaceful means of apprehending the victims first, but instead "chose violence."
He acknowledged that attorney Mark Nejame is pursuing litigation and that the families of the victims are "appalled" and "angry."
"This is murder," he said. "And we're calling for federal charges."
_____________________________________________
Mellissa Thomas is Editor for Florida National News. | mellissa.thomas@floridanationalnews.com